A blueprint for today, so you can enjoy tomorrow
With your personal agenda in mind, together, we'll look at your current financial situation, and build you a strategic path for your own unique future.
We take our role very seriously and understand how important your well- being and financial security is to you.  We'll work closely with you to learn about you, and your family, your goals, and lifestyle, as your trusted advisors we will help you reach your very best tomorrow.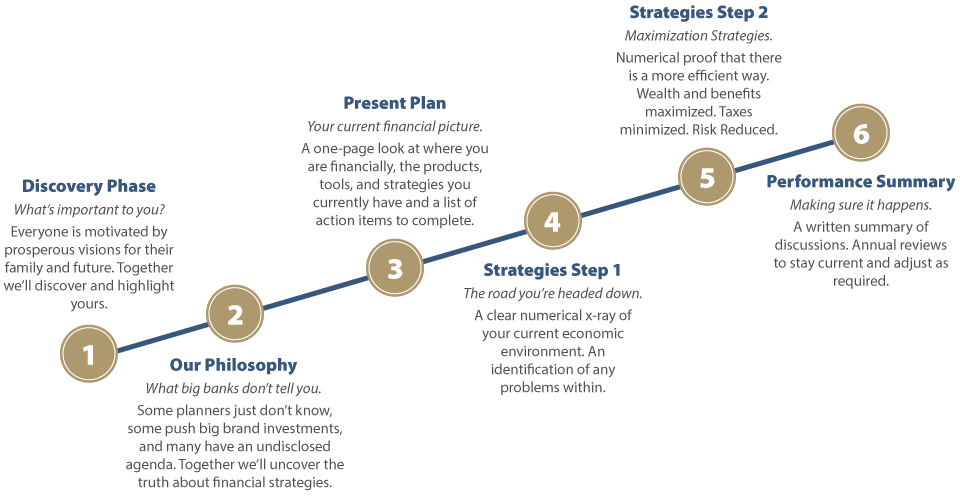 Benefits
Instead of making financial decisions one at a time in an isolated manner (micro) we advocate financial decisions based on an organized coordinated and integrated model (macro).
We're here to help
By following our wealth building process all your assets will be coordinated and integrated, working harmoniously together to provide increased cash flow and financial security.
Knowledge is power
Our process is evidence based and verifiable, helping you to evaluate and measure your results. You will be able to make decisions based on fact, not opinion or sales hype.
You'll take the wheel
We'll ensure that your assets are accessible, and remain in your own control, using all our resources and strategies to help you make the most intelligent financial decisions.
No Obligation Second Opinion
At Financial Wealth Builders we work by referral.  We do not charge an upfront fee for our planning process. We believe individuals referred to us deserve the opportunity to see if they can improve upon their financial position without an upfront fee attached. Our experience has proven that Canadians want the type of relationship with their financial advisor that entails no pressure and no sales hype.  They want an accurate and honest appraisal of their financial situation that is comprehensive and focuses on the "big picture".  They are looking for sound financial strategies that work.  At Financial Wealth Builders this is what we deliver, each and every time.
How We Are Compensated
We provide independent, conflict free, fiduciary planning and advice. We have a simple transparent fee structure determined by the amount of investment assets we manage on your behalf. Our fee based model is well below the industry average providing excellent value to our clients.