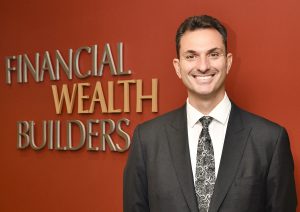 I still remember the day, back in 2007 when I sat down at the kitchen table with my wife and said that I want to make a career change. I wasn't doing what I felt was my calling. "What do you want to do?" she asked. I said, I really have always wanted to be an investment advisor. I had always been interested in investing, I would read books on Warren Buffett and would send away for annual reports to read for enjoyment (not downloadable at that time).
I decided to take massive action and became licenced and went to work for a large financial planning company in Canada. Although I came into the business through the investment door, a whole new world opened up to me. In 2013 I joined Financial Wealth Builders and I haven't looked back. Little did I know that investments were only part of the process. Earning a living for your family is a good thing, doing what you love while you is even better, but helping people while you do both is intrinsically satisfying.
We have new clients joining the FWB family on a regular basis and I appreciate the trust they have shown me in helping them develop a PATH to financial freedom for their families.
Ennio Longo
Phone 416-497-0008 x 225
Cell 416-318-6610
Email ennio@fwb-inc.com